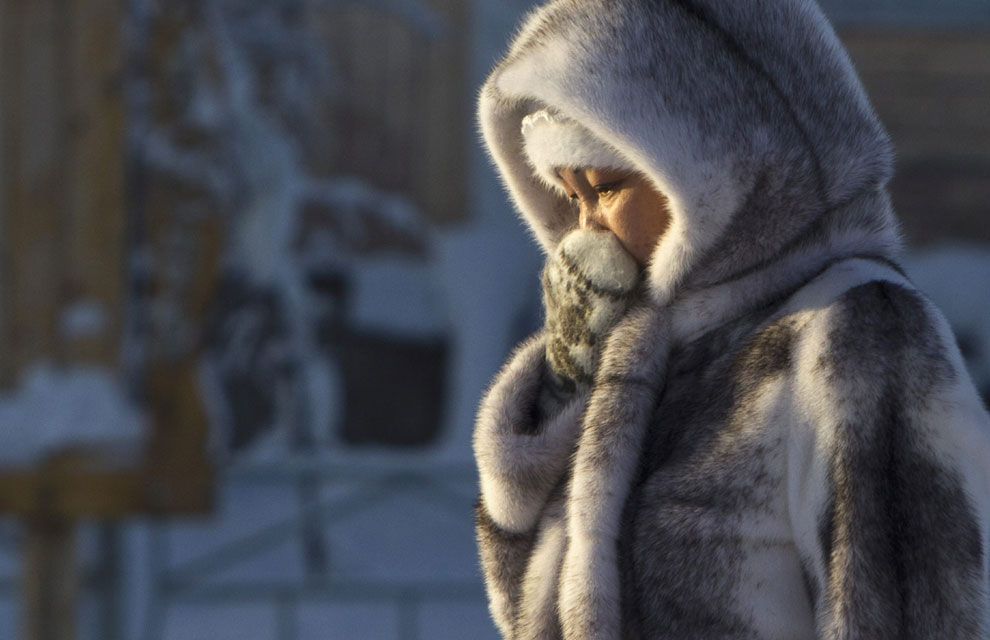 La temperatura de la Tierra es tan variable que puede ir desde los -90ºC bajo cero en puntos de la Antártida a los 70ºC de calor registrados en el desierto de Lut en el sudeste de Irán. Sin embargo, estas marcas históricas se han dado en la mayoría de casos en lugares o puntos del planeta no habitados.
Lo que poca gente sabe es que hay pueblos habitados que, sin llegar a tales extremos, si conviven con temperaturas extremas. En nuestro caso, como amantes del hielo que somos en ITV, nos ha entrado curiosidad por ver los cinco lugares habitados más helados de la Tierra. Y son estos:
1. Aldea de Oymyakon, Rusia: -71,2º C
Esta aldea tiene entre 500 y 900 habitantes esta localizada en la República de Saja, perteneciente a Rusia. Sus bajas temperaturas se deben, entre otras cosas, a que se encuentra a solo 350 kilómetros al sur del círculo polar ártico. En 1926 se registró allí la temperatura más baja en el hemisferio norte: 71,2º centígrados bajo cero y, de hechos, hay una placa conmemorativa de tal hito en la misma aldea.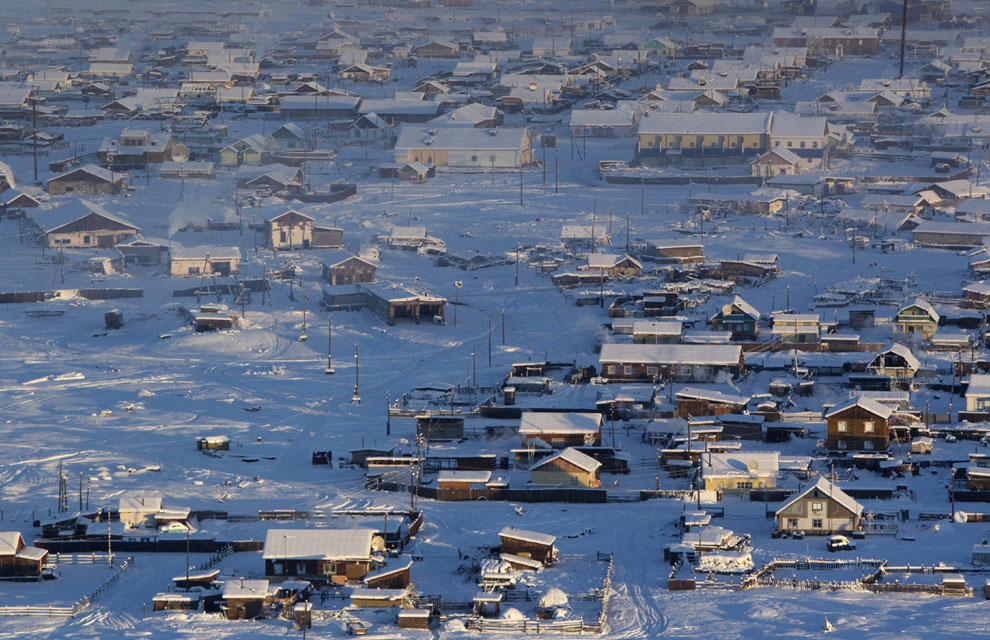 En Oymyakon tienen largos inviernos.  De nueves meses en concreto. Tal es el frío que hace, que los peces se congelan 30 segundos después de haber sido sacados del río, y los motores de los coches permanecen encendidos siempre pues en caso contrario, la gasolina se solidificaría.Otra de las curiosidades es que allí no existen móviles, pues a esas temperaturas se estropearían.
2 Ciudad de Verkhoyansk, Rusia: -69,8° C
También en Rusia está Verkhoyansk, situado a orillas del Río Yana y entre los montes y la cordillera Verjoiansk. A día de hoy esta ciudad cuenta con alrdedor de 1.200 habitantes y su récord de temperatura más baja se produjo el 7 de febrero de 1892 cuando alcazaron casi -70ºC. En invierno tienen una temperatura media de -46,2 °C.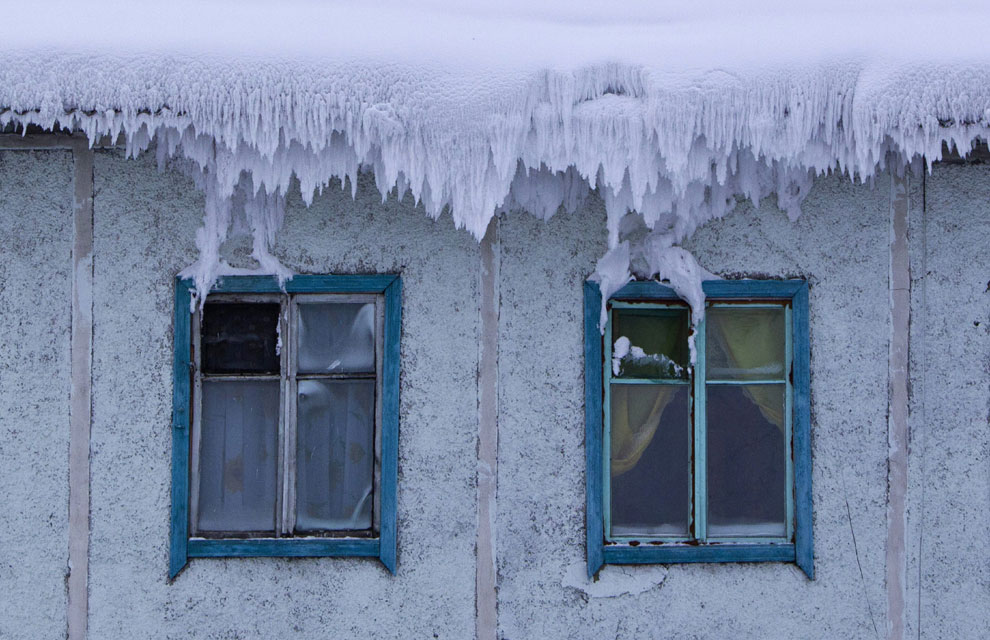 3. Estación de North Ice, Groenlandia: -66,1° C
North Ice fue un estación de investigación de la expedición British North en el interior de Groenlandia y, aunque parezca deshabitado, lo cierto es que a su alrededor hay varios pueblos donde las temperaturas son de unos -40ºC aunque el mínimo histórico se dio en enero de 1954 cuando se registró una temperatura de -66.1 grados centígrados.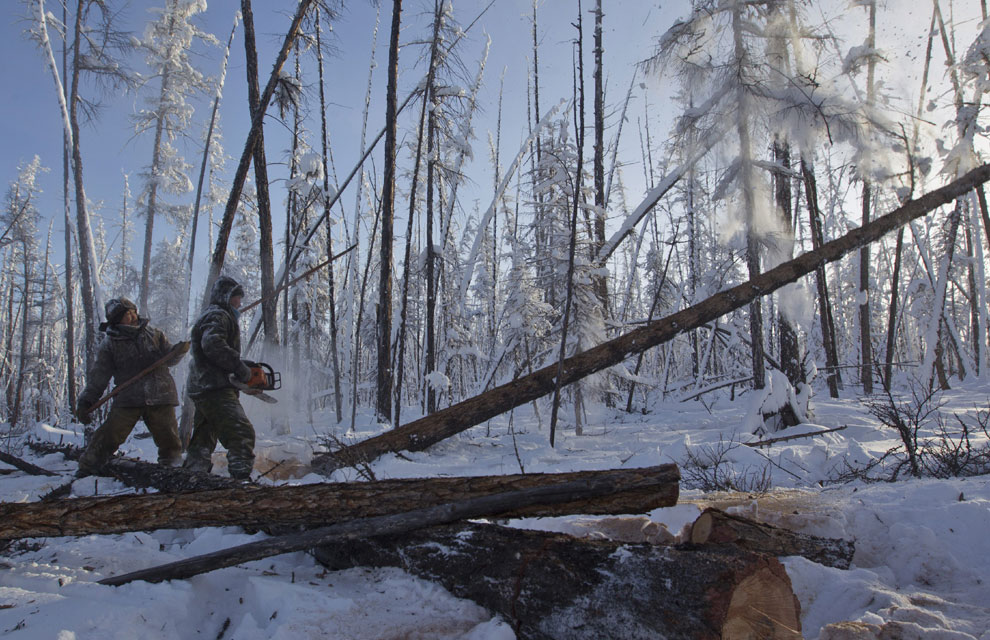 4. Snag, Yukon, Canadá: 64º C
Pasamos de Europa a América. En Cánada, la población de Snag cuenta con solo 10 nativos y un grupo de científicos y meteorólogos que conviven en el considerado en general el lugar más frío de América del Norte. Con – 64º C se convirtió en 1947 en el récord de temperatura más baja registrada en este continente. Snag está ubicada en Yukón, uno de los estados más occidentales de Alaska.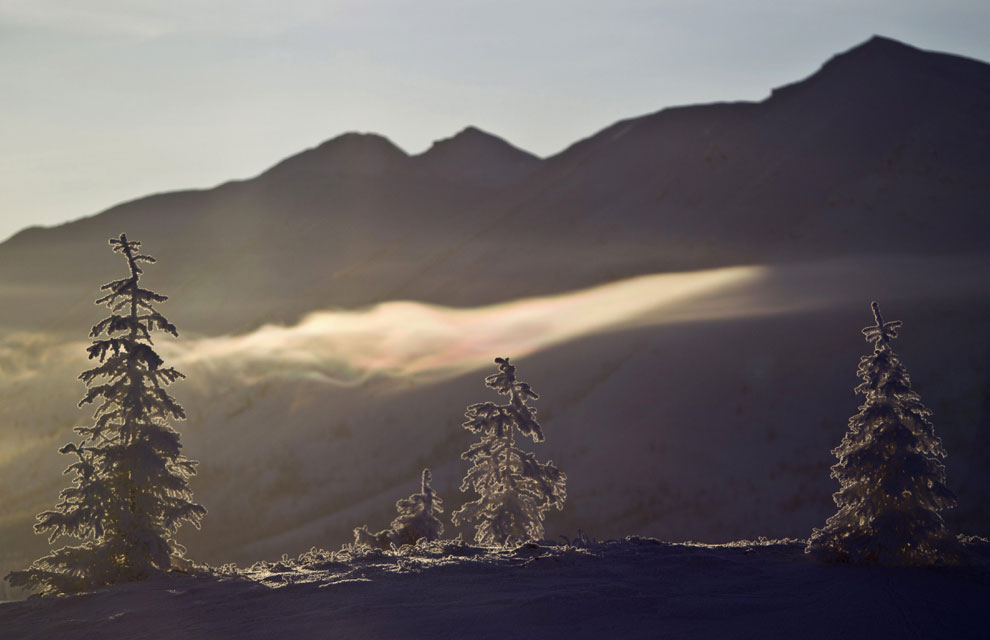 5. Prospect Creek, Alaska: 62,1 °C
Por último hablamos de otro lugar de América del Norte. Se trata de Prospect Creek, una pequeña localidad ubicada a 40 kilómetros de Bettles, Alaska. Fue hace años el centro de varias expediciones mineras y el campamento para la construcción del Sistema de oleoducto Trans-Alaska uno de los sistemas mas grandes de oleoducto. En el mes de enero de 1971, se registro una temperatura récord de -62 ° C, por lo que el 23 de enero del año 1975 fue declarado como el lugar mas frío de Estados Unidos.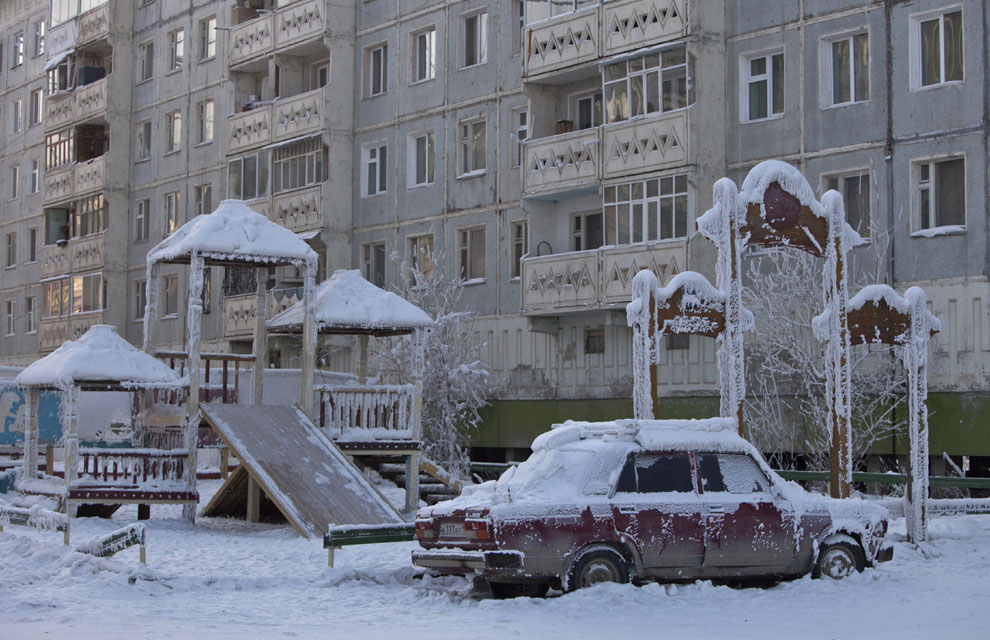 The Five Coldest Inhabited Places in the World
Temperature in the Earth is so changing that can range from -90ºC in some places of Antarctica to 70ºC recorded at Lut Desert in South-eastern Iran. However, these historic landmarks have mostly been recorded in uninhabited spots.
What few people know is that there are inhabited towns that, although not reaching those extents, live with extreme temperatures. In our case, as the ice lovers we are at ITV, we were curious about which the five coldest inhabited places in the world would be. And they are.
1. Oymyakon rural village, Russia: -71,2º C
This village is inhabited by 500 to 900 people and is located in the Sakha Republic, Russia. Its cold temperatures are partly due to its location only 350 kilometers South from the Arctic Circle. The coldest temperature in Northern Hemisphere was recorded there in 1926: 71,2º Celsius below zero. In fact, there is a sign in the village recalling this event.
At Oymyakon they have long winters.  Nine months long, actually. It is so cold that fish freeze 30 seconds after having been caught from the river, and the engines in cars are permanently on as, otherwise, fuel would solidify. Another curious fact is that there are no mobile phones, as they would not work at those temperatures.
2. Verkhoyansk, Russia: -69,8° C
Verkhoyansk, also in Russia, located on the Yana River and between Verkhoyansk hills and range. Nowadays, the city has a population of 1200 people and its coldest temperature record was on February 7th 1892, were they nearly hit -70ºC. They have an average winter temperature of -46.2 °C.
3. North Ice Station, Greenland: -66,1° C
North Ice was a research station of the British North Greenland Expedition on the inland ice of Greenland and, although it look uninhabited, there are some villages in the surroundings where temperatures reach -40ºC, although the historic record took place in January 1954, when -66.1 Celsius were recorded.
4. Snag, Yukon, Canada: -64º C
We jump from Europe to America. In Canada, the village of Snag has only 10 First Nation locals and a group of scientists and meteorologists who live in the generally considered coldest place in North America. Having hit -64ºC, it became in 1947 the lowest temperature recorded in this continent. Snag is located in Yukon, one of the most western states of Alaska.
5. Prospect Creek, Alaska: -62.1 °C
Last, but not least, we speak about another place in North America. It is Prospect Creek, a small town located 40 kilometers away from Bettles, Alaska. Years ago it was home to numerous mining expeditions and the camp for the building of the Trans-Alaska Pipeline System (TAPS), one of the biggest pipeline systems. On January 23, 1971 the record low temperature of -62 °C was recorded, so in 1975, the place was declared the coldest in the United States.
Temperature in the Earth is so changing that can range from -90ºC in some places of Antarctica to 70ºC recorded at Lut Desert in South-eastern Iran. However, these historic landmarks have mostly been recorded in uninhabited spots.
What few people know is that there are inhabited towns that, although not reaching those extents, live with extreme temperatures. In our case, as the ice lovers we are at ITV, we were curious about which the five coldest inhabited places in the world would be. And they are: