Crushed ice is an essential part of many of the most popular cocktails: margarita, caipirinha, mojito, daiquiri, etc. When we think of these drinks, the first thing that comes to mind is perfectly crushed ice.
When you are having a cocktail and it has well crushed ice blending with the drink, that is what makes the difference between enjoying a great drink or having a bad drink which instead happens when drinking a cocktail with badly crushed ice blocks.
So, relying on an ice crusher is almost mandatory for any bar or restaurant that wants to prepare high-quality cocktails.

Professional ice crusher
If you want to serve the best cocktails, you should really consider the ITV TR INOX crusher in your bar. This ice crusher does not take up much space and it can crush 3 to 5 kg of ice in just a few seconds regardless of the type of ice cube.
Given the mechanism patented by ITV, it does not require much force and so its energy consumption is very low. It is made of stainless steel for the outer box, which greatly facilitates cleaning and sanitation, so we guarantee that the useful life of this ice crusher will be very long.
At ITV we have two models of professional ice crushers that meet the needs of any hospitality establishment: the TR3 INOX and the TR5 INOX.
Both models have powerful stainless-steel blades, low energy consumption and comply with the ISO 14000 standard that acknowledges greater efficiency in the use of resources and optimization of energy consumption, which means that it helps to save energy and reduce the environmental footprint.
TR3 INOX
It is the smallest model, but no less powerful. Its load capacity is 3 kg, the tank is 1 kg, and the energy consumption is 0.15 kW. It weighs only 10 kg.
Thanks to its measurements and its capacity, it is perfect for places that serve cocktails but that have little space at the bar.
TR5 INOX
The older brother of the TR3 INOX. The main differences of this model compared to the previous one, are the load and tank capacity: the load goes from 3 to 5 kg while the tank capacity from 1 to 5 kg compared to the TR3 model. The energy consumption does not vary, it is also 0.15 kW. On the other hand, it has a greater volume and weight since its net weight is 25 kg.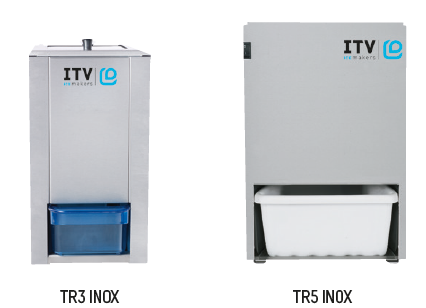 ITV Ice Makers: Ice Experts
Since 1981 when we started our business until nowadays, when we have positioned ourselves as leaders in the industrial sector of the hospitality industry and manufacture of ice machines, we have always followed the same family business philosophy, building lasting relationships with all our customers and suppliers.