Trabajar con el acero inoxidable es hacerlo sabiendo que estamos ante un material que para su buena conservación y para evitar los procesos de corrosión, necesita una buena limpieza. Aunque no siempre se hace correctamente. Nosotros, a través de nuestra experiencia con las máquinas de hielo de ITV, utilizamos el proceso que os explicamos a continuación.
Se podría decir que la mayoría de los equipamientos, encimeras, campanas y resto de materiales de las cocinas profesionales son de acero inoxidable. También lo son las máquinas de hielo de ITV, pues su durabilidad y resistencia hacen de este metal un material ideal por sus incomparables propiedades. Al contrario de lo que pasa con el acero, que se oxida al contacto con la humedad del aire o del agua; el acero inoxidable contiene cromo, que crea sobre las superficies una capa protectora evitando el óxido.
No obstante, aunque haya esa seguridad que evita el óxido, no hay que dejar de tomar todas las precauciones posibles para su conservación y sobre todo para evitar la corrosión, pues una vez se inicia esta, es imparable. Por este motivo se debe ser escrupuloso. Lo ideal con las máquinas de ITV y otros materiales de acero inoxidable es realizar limpiezas periódicas así como tener precaución con los productos desinfectantes que contienen cloruros.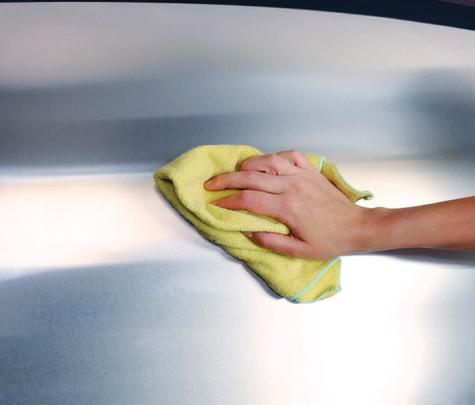 Pero lo realmente importante es una buena limpieza, sea  con productos usuales como la sosa caustica, el bicarbonato de sodio o simplemente con agua y jabón, como también con los productos desengrasantes (básicos), que hay en el mercado. En cualquier caso después de la limpieza es imprescindible un aclarado con abundante agua y sobretodo un buen secado. Para estas operaciones nunca se deben utilizar estropajos, ni cepillos metálicos o abrasivos, ni trabajar con las superficies a altas temperaturas.
Como paso final, tras la limpieza es aplicar cualquier producto comercializado como limpiadores para aceros inoxidables, que en realidad no lo limpian sino que crean una fina película grasa protectora que iguala la superficie, evitando que queden marcadas las famosas huellas de nuestros dedos, a la vez que lo abrillantan.
How to give stainless steel a good cleaning
When you work with stainless steel you know it has to be thoroughly cleaned in order to get a good preservation and to avoid rusting. But it is not always done the right way. Based on our experience with ice machines at ITV, we use the following process.
We could say most of the professional kitchens equipment, worktops, hoods and other materials are made of stainless steel. So are ITV's ice machines, as durability and resistance and other incomparable properties make this material an ideal choice. Contrary to what happens with steel, which rusts in contact with air or water moisture, stainless steeel contains chrome, which creates a protective layer on surfaces, thus avoiding rust.
Nevertheless, although we know it avoids rust, you always have to make everything possible for preserving it and to avoid corrosion, as once it starts, you cannot stop it. That is why we must be scrupulous. The best with ITV machines and other stainless steel materials is to carry out regular cleaning and to be careful with disinfectants containing chlorides.
But what is really important is a good cleaning, with common products as caustic soda, sodium bicarbonate or simply water and soap, or degreasing products (basic), found in the market. In any case, after cleaning you must rinse with lots of water and, more important, you must dry thoroughly. You must never use scouring pads, nor metal or abrasive brushes and you must not work with the surfaces at high temperatures.
The last step is to apply any stainless steel cleaner, not beacuse they clean, but because they create a thin, greasy protective layer that evens the surface, avoiding that our fingerprints get marked on it and adding gloss.